August 4, 2021
ID.ME Says There Has Been Massive Unemployment Benefits Fraud. Should We Believe Them?
.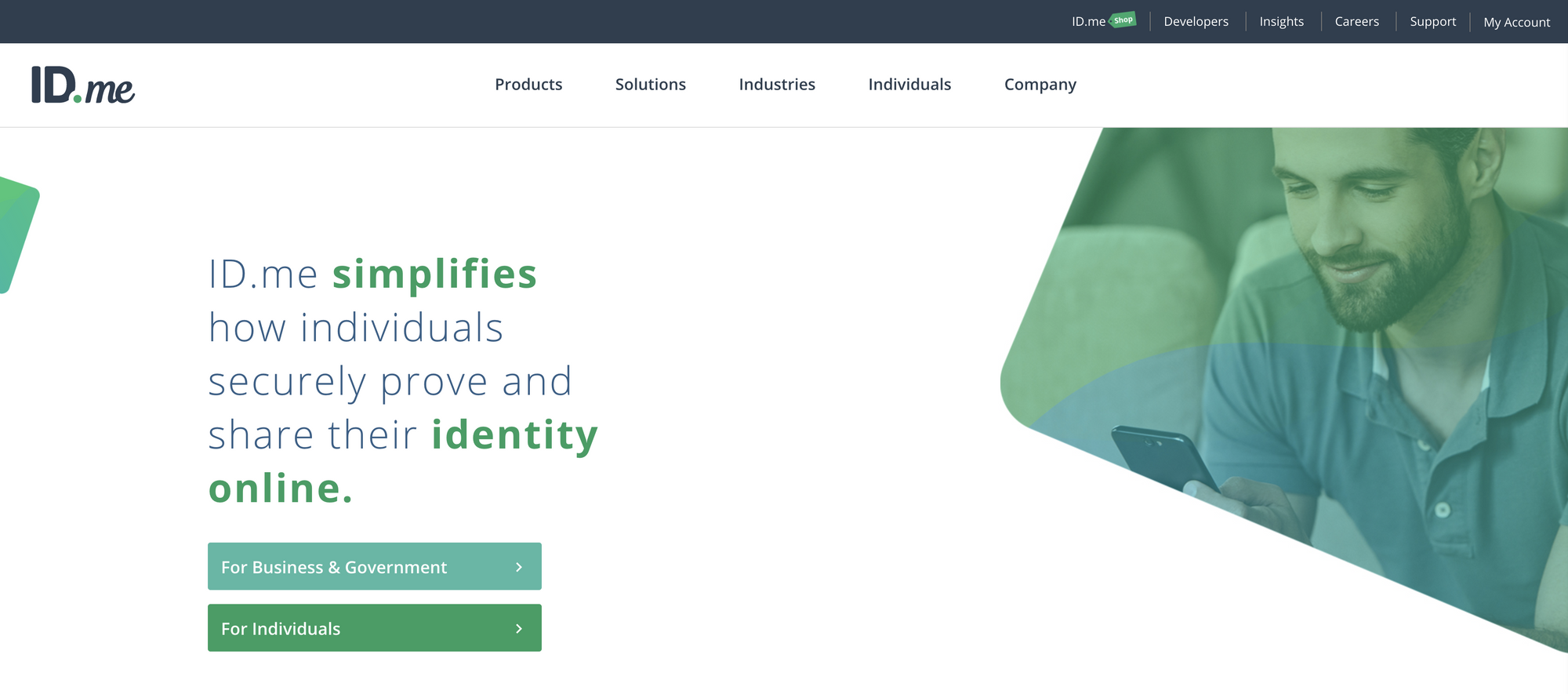 This is a Guest Article for Notes on the Crises. This is a Crosspost with The Flashpoint
Eoin Higgins is a Journalist in New England. His work has appeared in The Washington Post, The Intercept, The Appeal, VICE, The Outline and many other outlets. He also writes his own newsletter called The Flashpoint, which you can find here
Subscribe
It was March 2020 and Ruth Thompson-Herfurth of Parkville, Maryland, was out of a job. The Covid-19 pandemic had forced a near-total shutdown of the state's economy and Thompson-Herfurth, a part-time delivery driver for Uber, DoorDash, and GrubHub, couldn't work.
Luckily, unemployment benefit expansion meant she could get insurance payments. However, Maryland is one of four states in the nation—like Nevada—that will not do direct deposit for unemployment benefits. That meant that Thompson-Herfurth also had to go through a needlessly complicated verification process, in order to get her benefits.
"I applied for it and initially was approved," Thompson-Herfurth told me. "Everything went through... I could see how much I was getting paid each week and it was supposedly going to a debit card, which I could not access because I didn't have the debit card yet."
The card was held up because ID.me wasn't able to verify Thompson-Herfurth's identity—"they had me living in Texas with a totally different Social Security number with my name," she said—and the process of getting the company to acknowledge she was who she said she was took four months. Thompson-Herfurth described sending hundreds of emails, making hundreds of phone calls, and using every resource at her disposal to try to get the company to verify her identity.
All that stress took a toll.
"I had to go to the doctor, I had to get put on antidepressants, anti-anxiety pills because my anxiety was through the roof,"she said. "My hair was falling out. I was physically getting ill from the situation."
Thompson-Herfurth isn't the only person to report infuriating delays from ID.me's processes. And as the company expands to more states and picks up new private contracts, it's worth looking at the disconnect between what they claim they can do and the reality of ID.me's services for the public.
Marshall Steinbaum, a professor of economics at the University of Utah, told me that he sees the use of ID.me in the unemployment insurance process as part of a deeper rot at the heart of American institutions.
"The idea that benefits fraud is pervasive presupposes that beneficiaries are morally culpable even if they haven't committed fraud (but they probably have), which is a retrograde and inegalitarian ideology," Steinbaum said.
A Controversial Processing System for the Unemployed
Founded by former Army Ranger Blake Hall in 2010, ID.me uses proprietary software to verify identities for a number of purposes, including, increasingly, dispensation of unemployment benefits. The company exploded over the past year as states turned to private sector solutions for identity verification to match an unprecedented surge in unemployment insurance applications at the height of the Covid-19 pandemic.
Now valued at $1.5 billion, ID.me raised $100 million in capital in March. The company described its success in a contemporaneous press release:
Today, ID.me has 39 million members with more than 70,000 new users signing-up every day to its secure digital identity network. Major federal agencies, 22 states, and over 400 leading brands accept ID.me's login to streamline customer authentication. ID.me's service is free to consumers while business customers pay ID.me for trust and to streamline workflows.
Yet despite the increase in valuation, the company's effectiveness is a matter of some debate. Critics say that ID.me's processes are overly lengthy, unnecessarily confusing. This point of view was widespread among the people I talked to who actually had to personally deal with the system. This dysfunction had high stakes: it could result in months-long delays for already urgently needed payments. These logistical delays have real-world effects, from economic hardship to anxiety-induced stress and illnesses.
Axios reporter Felix Salmon, pointing to the company's numbers on unemployment insurance fraud, claimed that drops in successful applicants that occur after the company takes the reins is evidence that the firm's system is working.
But the company's seen bad press around the efficacy of its signature product. Long wait times and frustrating processes have been a marker for ID.me as the company has taken charge of identity verification in unemployment insurance systems around the country. In Cumberland County, Pennsylvania, landscaper Mark Samuel told local affiliate Fox 43 on April 29 that he had been waiting 45 days to talk to someone in the company's video chat.
"I'm extremely frustrated," Samuel said, "and if I didn't have a full freezer, and we depended on this, and my wife got sick, and we didn't own a business, we'd be in pretty bad shape, and I'm sure there are others in bad shape."
Salmon didn't contest that there were problems in how the company does its work:
"There are, I'm sure, absolutely thousands of individuals who got caught up in this who haven't been able to prove their identity, who are having a horrible time dealing with it," he told me. "I am not an ID.me fanboy in any way."
Delays for the Desperate
Wait times at the video call center where "Dean," a video support team member at the company, works were "days long" at points over the winter in December and January, he told me. It's hard to see how people survived, he said, given the way the system treated applicants—with or without ID.me verification delays.
"I talk to roughly 45 people in an 8 hour shift, and a common statement is, 'all this has taken me a month, or two months, or two weeks, or three,'" Dean said. "There's obviously something going on that the system is not able to handle these things quickly."
Economist Steinbaum pointed to the company's pervasive issues as evidence of a careless approach to lifesaving benefits at the hands of a company using a moment of crisis to make a quick buck.
"The tech is bad, the data can be hacked, vulnerable people are assumed not to have ownership of their own data if they're applying for benefits anyway," he said. "It's all just a gross concoction."
In comment, ID.me strenuously denied its wait times were in the days or weeks.CEO Hall  told me that ID.me doesn't usually have wait times exceeding 30 minutes at the most, at least now.
"Wait times for Trusted Referee sessions have been consistently under 30 minutes for the past month and are currently in the single digits," he said.
As far as the higher wait times reported by people frustrated with the service, Hall put the onus for those delays on states for sending the company the entirety of their backlog at once.
"We had multiple states send us months, and even a full years worth, of claimants to us for verification in several weeks due to the overwhelming fraud that preceded our introduction in that state. The states decided they would rather have wait times go up for a short period of time than to pay fraudulent claims out to organized crime rings. Of course, when states spiked demand for our services, wait times went up for several weeks, but that was not a function of ID.me's capacity but rather a state choice to send their entire applicant pool to us for processing at once. ," Hall said.
Even if one accepts that as true, it's an irrelevant distinction to those waiting on the company for identity verification, and puts the lie to Hall's claim that "no one is waiting days or weeks to verify — or even close to that." After all, not everyone has the time to wait hours on end to get through to someone on the other end of a video chat, assuming that their internet doesn't cut out and bump them back out of line. While ID.me's failures to provide verification in a timely manner has caused countless problems for users, the real issue with unemployment insurance is a deeper, systemic one, Thompson-Herfurth told me. A government-wide failure at the state and federal level to provide benefits to those who lost their jobs during an unprecedented economic crisis is at the root of the problem.
"I think the government needs to step up and provide a better paying system for jobs," said Thompson-Herfurth.
Organizing to Secure Support for the Unemployed
Dustin Branch, a national digital and distributed organizer with Unemployed Workers United, currently located in Orlando, Florida, filed for unemployment last year and entered the labyrinthine world of identity verification that ID.me runs as part of its contracts with state governments. Branch, who worked for the Bernie Sanders campaign in Nevada in 2020, found himself out of work with the pandemic bearing down after the campaign shut down.
Like Maryland, Nevada's unemployment system requires people to get a Bank of America prepaid card for their funds, which are deposited into the account. You can do a check, Branch told me, but that takes months. It took him nearly a year to get through Nevada's unemployment insurance system and then the bank's identity verification system, run by ID.me, held up his payments.
"It wasn't until March 15th of 2021 that I finally got my unemployment benefits," Branch said. "So almost a full year from when I first applied—and the same day that I got notification that this deposit had been made, Bank of America blocked my card for identity verification. So there is no way for me to transfer it out."
He called the unemployment insurance system in Nevada to make sure the correct documents were in place, and the state agency assured him they were. But that didn't matter, ID.me didn't have his identity verified. He would eventually, in May—two months later—get the whole thing sorted out.
Branch, who called the verification process "completely absurd," told me that while ID.me had his information from the moment he applied last year, the holds were put on anyway, evidence of the outdated system in place.
"Thousands of people have been denied and had their claims and their benefits put on hold because of this," Branch said.
A California worker who dealt with ID.me in that state— who I'll refer to as Stephen—was one of those people. He told me that fighting to verify his identity with the company was a nightmare. As well as being slow, the process almost resulted in him having to pay back four months of unemployment insurance benefits.
"I'd only been back working for a couple of months at that point, after several months without any income," Stephen said. "The idea of my wages being possibly garnished and owing back all that expanded UI was extremely stressful."
The process Stephen had to go through to verify his identity, he told me, was "needlessly stressful and a huge time suck."
Unemployed Workers Left Without A Choice
"Because of my work here at Unemployed Workers United, I'm taken care of," Branch said. "I don't have to worry as much about getting these funds next week or paying my rent or paying my car—but while I was out of work, those are the things I was worrying about. I was terrified."
Due to his work, Branch talks to people in the working class around the nation. They all tell him the same thing: the jobs they were doing before aren't back. That means either riding it out with governmental assistance as the pandemic danger recedes — or taking a low paying job without the salary and protections their skill level should command.
"They're all saying, oh, everything's fine, we're back to the way it was, we're all good to go—people can go right back to work," Branch said. "And that is just not the reality. People have not caught up. Some people haven't even caught up from 2008."
Compounding the problem is the unemployment benefit system, which places undue burdens on workers. The program's myriad hurdles are aimed at forcing people back to work—no matter what.
"People are really struggling and it is designed to dehumanize you and make you feel as though it's you who's done something wrong, it's you who's not good enough," Branch said. "That just can't be the narrative around worker protections."
The socioeconomic hurdles of identity verification aren't lost on Dean. He noted that access to primary documents is difficult under normal circumstances to the poor and working class—conditions which only worsened during the pandemic.
Thompson-Herfurth put it bluntly:
"It's disgusting that we have to go through this if we want to survive," Thompson-Herfurth told me. "We don't have a choice."
Subscribe
Printer Friendly Version